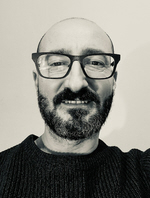 Juan
A person-centered counsellor
Qualified member of ATSAC
Registered with BACP
Professional Associate Member of COSRT
About Juan
Juan is originally from Spain. He first became interested in psychology when he worked for a crisis team, supporting people who suffered a bereavement following aviation accidents and incidents of their loved ones. During the 4 years supporting the victims' families, Juan learnt about trauma, anxiety, depression, stress and bereavement, and applied that knowledge to support his clients and team members through challenging situations.
At the same time, Juan completed his studies in person-centered counselling, which is a humanistic approach that focuses on the client and their needs. It is a gentle approach that works at the client's pace allowing them to explore what they may be struggling with and helping them to find solutions that work for them. This is achieved by facilitating their personal growth by allowing them to explore and make use of their own strengths and personal identity.
Juan continued gaining experience by working in a GP practice where he helped clients with various mental health problems such as bereavement, depression, anxiety, low self-esteem and relationship issues.
During that time, Juan also volunteered for an adult community center in one of the most economically deprived areas of Liverpool. A high percentage of his clients were on probation from prison, had suffered abuse, and struggled with addiction, trauma, attachment wounds and drugs, during their childhood and teenage years.